Overview
In the last years, FLUSP members have been dedicating time and effort to contribute with FLOSS projects. In this section, we describe for a set of FLOSS projects what we achieved so far:
Linux Kernel: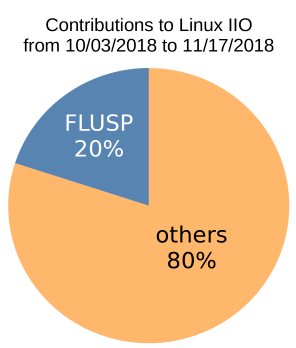 The group accounted for 20% of all contributions made to the IIO subsystem in the period from 10/03/2018 to 11/17/2018.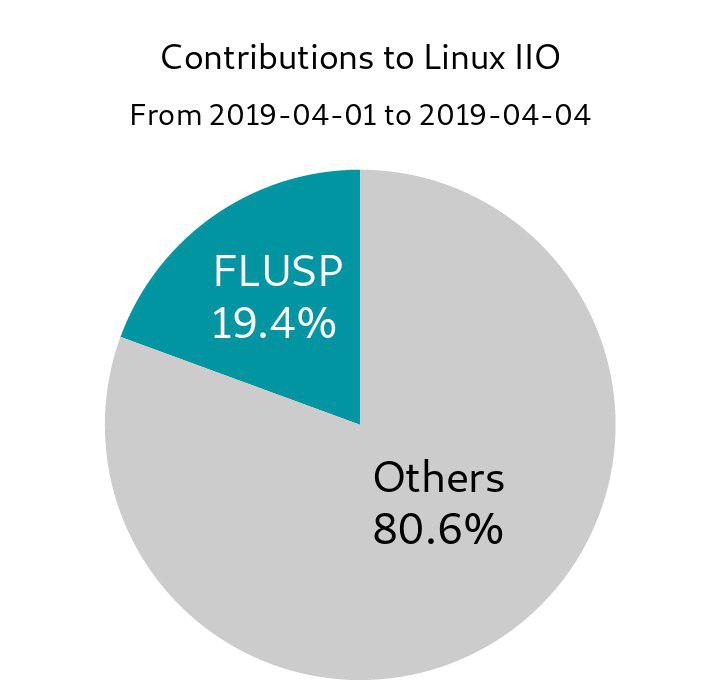 From 01/04/2019 to 04/04/2019, the percentage of contributions made by FLUSP members to the IIO subsystem was 19.4%, almost the same percentage of 2018.
There are approximately 115 patches made by FLUSP members in the main tree of the Linux Kernel.
Three drivers containing FLUSP contributions were moved from staging one driver in the DRM subsystem.
One of our members is the maintainer of the VKMS, which is a driver in the DRM subsystem.
Due to FLUSP's efforts in contributing to drivers in the IIO subsystem, a company donated more them four hardware boards. An explanation of each one of the boards together with useful links (such as the datasheets) can be found at the resources.
Git:
One FLUSP member is working in the Git version-control system. This member submitted seven patches to the official repository.
The FLUSP member who contributes with Git also applied for GSoC'2019. The project proposal is to make the Git codebase more thread-safe, such that in the future it will be possible to improve Git's parallelism.
The FLUSP members also gave classes on Git to the freshmen of the Institute of Mathematics and Statistics (IME-USP).
GCC:
There is one FLUSP member actively working on the GNU Compiler Collection (GCC). This member has already three patches accepted, and 11 submissions made. He also applied to GSoC'19 with a GCC project related to parallelize part of the compilation.